Meet Over 60s Singles Looking For Love...
Join for free today
Welcome to
Exclusively

over60dating.com!
Why check out Exclusively Over 60 Dating?
Exclusively Over 60 Dating was created by Over 60s Singles who understand our generation...
Exclusively Over 60 Dating is an online dating site exclusively for singles over 60. Find and meet local singles 60 plus looking for a serious relationship. Our genuine members are looking for love and our site has a high success rate. So join us for FREE today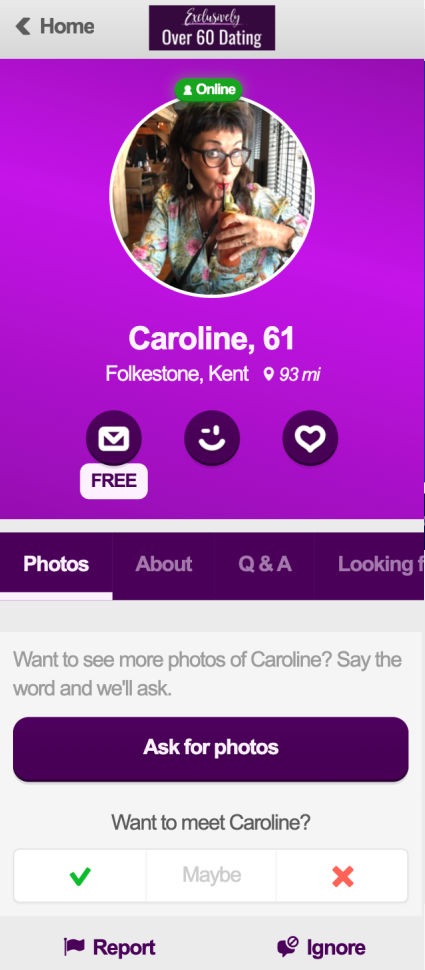 It's as Easy as 1.. 2.. 3!
You are just 3 steps away from connecting with other mature members just like you!
Simply scroll up to the sign up form at the top of the page, fill in your details and then start searching through our HUGE network of Over 60s singles by hair colour, eye colour, height, build, interests. characteristics and so much more!
1. Take a pic...
Show other Over 60s singles what you're like!
Once you're a member you can add to your profile to show off all of the best things about you!
2. Search Members...
Find the person who's right for you!
You can use our search features to help you find exactly who you're looking for – and avoid what you know doesn't work for you!
3. Find your special someone...
Start a conversation today!
Our members are looking for an out going Over 50-something just like you and we do everything to help them achieve it.
Meet Singles Over 60!

SAFE AND SECURE OVER 60 DATING
Start your search for that special someone here with genuine members on Exclusively Over 60 Dating. Our customer support team are available 24/7 to help keep your online dating experience safe and secure. Enjoy dating again. Start your search now!
So, what are you waiting for? Get out of your comfort zone and start meeting fab singles like you!
Join free today